Discover Your Passion: Learn to Sail

Instructors
Learn to Sail San Diego has been a recipient of the ASA (American Sailing Association) Outstanding school award 5 times. Our ASA licensed instructors offer years of sailing experience and are looking forward to sharing their knowledge with you!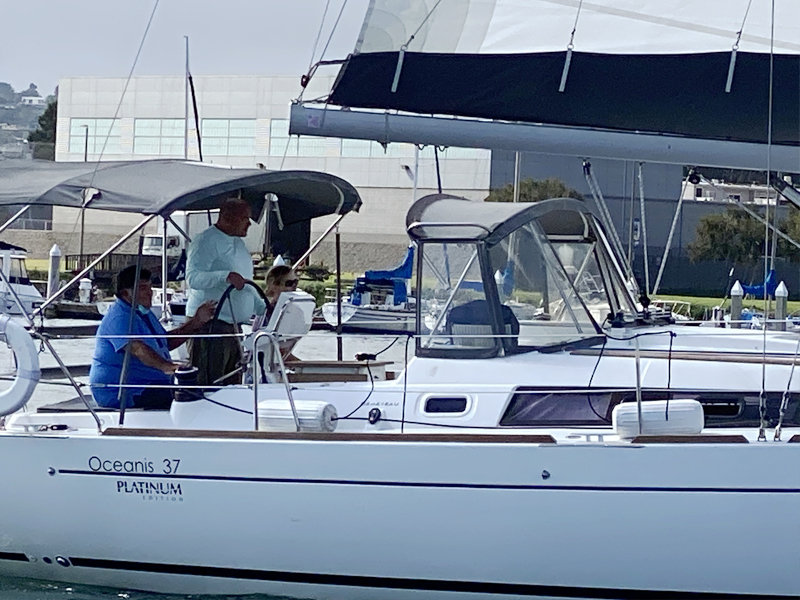 Captain Clint Najera
Captain Clint Najera received his ASA instructor's certification in 1984 and has been teaching sailing ever since. When he wasn't teaching sailing, he worked as a civilian mechanic for the Blue Angels.  Captain Clint has extensive sailing experience including several boat deliveries from Florida to Seattle through the Panama Canal.
Clint served for over 5 years as Sailing Director for a local sailing club. He has been twice named ASA Outstanding Instructor of the Year, and is certified to teach the Basic Keelboat, Basic Cruising, Bareboat Cruising, Cruising Catamaran, as well as the advanced courses: Coastal Navigation, and Advanced Coastal Cruising.
Captain John Miller
Captain John Miller has 45+ years of sailing experience on boats ranging from a small Sunfish up to 77 'vessels including ketches, sloops, yawls and multihulls. He has logged well over 1800 days on the water and 70,000 nautical miles. His sailing adventures and work as a Professional Delivery Boat Captain have taken him from San Diego to Hawaii to the San Juan Islands, the Mississippi River to the Chesapeake Bay, the Gulf of Mexico and around the Florida Keys. For the past seven years, he has participated as Captain and Navigator, in multiple offshore races including the Transpac from Long to Honolulu, PV18 from San Diego to Puerto Vallarta, SoCal300 from Santa Barbara to San Diego, as well as the Beneteau Cup, 5 years in a row. He is certified to teach the 101/103/104/105/106 and 118 courses. Captain John has also instructed safety at sea and offshore personal survival courses, with over a decade of experience with safety products, seminars and devices.
Captain Richard Darmanin
Captain Richard Darmanin began sailing Sunfish at the age of 8, while living in Puerto Rico.  He began racing Hobie Cats at the age of 16, and went on to race in the first "Around Puerto Rico Race" as well as the "Middle Sea" race in Malta.   He has crewed captained and raced both monohulls and catamarans, and represented Puerto Rico in the Montreal Olympics, in 1976.  His life-long love of sailing has taken him around the world including the Bahamas, British Virgin Islands, and Malta. 
Richard has been certified by the ASA to teach the 101/103/104 and the 114 Catamaran courses. Captain Richard received the honor of ASA 2019 Outstanding Instructor Award, nominated by his students. 
Captain Ed Brunjes
Captain Ed Brunjes' love of sailing began in June 1969 aboard a Baba 30 in Mission Bay San Diego. The experience left an unforgettable impression, as he felt connected with thousands of years of sailing history and to the sailors who spent their lives on the water.
After owning three different boats, and completing his first of 5 trips from San Diego to Hawaii, he decided to certify as an ASA instructor and make sailing education his new passion.
Captain Ed has been an ASA instructor for 13 years and is certified to teach every course the ASA offers including the beginning courses 101/103/104 and the more advanced and specialty courses including Coastal Navigation, Celestial Navigation, and Radar.
Captain Ed has worked as crew, second captain and navigator on multiple San Diego to Hawaii transits as well as from New Port Rhode Island to Annapolis Maryland. He has skippered numerous regattas and operated boats for private charters. Sailing has given him the experience of working in Abaco, Bahamas, Bermuda, and on the west coast including Annapolis Maryland and the Chesapeake Bay area.
When Ed is not on the water, he teaches Computer and Information Sciences and Miramar College. He specializes in C/C++ and was voted "Professor of the Year" twice by his students.